| | |
| --- | --- |
| | Commentary by Steven Lofchie |
FINRA requested comments on (i) potential changes to its short interest reporting requirements, (ii) a new rule that would require clearing agency participants to report information on allocations to correspondent firms of fail-to-deliver positions and (iii) additional requirements concerning short sale activity.
The CFTC's Interest Rate Benchmark Reform Subcommittee recommended to the Market Risk Advisory Committee "that on July 26, 2021 and thereafter, interdealer brokers replace trading of LIBOR linear swaps with trading of SOFR [Secured Overnight Financing Rate] linear swaps."
SEC Chair Gary Gensler solicited nominations for all five of the seats on the Public Company Accounting Oversight Board.
A firm settled FINRA charges for failing to submit accurate trade information to the Order Audit Trail System and the Over-the-Counter Reporting Facility.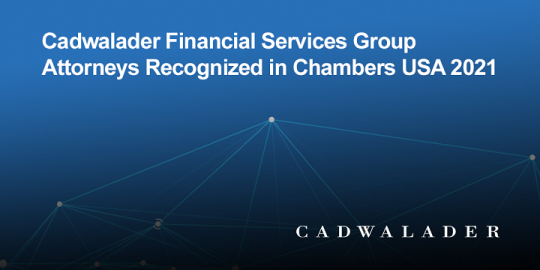 Attorneys from across Cadwalader's Financial Services Group were recognized in Chambers USA 2021.